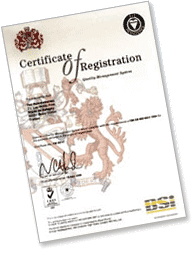 QUALITY

TEC AUTOMATISMES has always fulfilled its customers' quality requirements in the whole range of its activities and products.

To guarantee the satisfaction and the confidence of our customers, we constantly update our quality management system, in order to show the continuous improvement of the global performance of our company.

Our commitment has been recognised through ISO 9001/2000 registration on the whole range of our activities.






Moreover, major companies have trusted our know-how and our quality
assurance policy for a long time :
EDF
Accreditation to realize, for EDF-Direction Production Ingéniérie, products in the following fields : electriticy and power control, manufacturing and spare parts, repair in factory.
TRACTEBEL Engineering
Certificate of authorization # 2060 for the procurement, manufacture, assembling, examination, testing, packaging, storage and shipping of relays MTI.

SNCF
Technical and commercial qualification for TEC AUTOMATISMES and its manufacturing site in Mouy.

KOREA HYDRO &NUCLEAR POWER CO. LTD
Certificate of authorization # SP-2004-009 for the procurement of TEC and MTI products mounted in Hydro and Nuclear power plants in Korea.