INFRARED TRANSCEIVER
---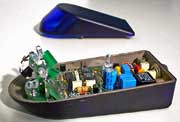 Infrared transceiver for the transfer of data at a speed of 1200 up to 115000 Bauds.

This equipment is dedicated to the half duplex wireless communication between fix and mobile devices.

The transceiver is made of a plastic box divided in two half shells with an optical window at 45°. It includes a connector cover, a CMS mother card with the modular communication interface, the emission/reception infrared head, a 6 pin connector protected against polarity inversions. Serial link RS422 or RS485 by external connection.

Applications : whatever the activity (transport of handling) the typical application is the transfer of data between a mobile device (bus, waggon, truck, ...) and a fix equipment (station, programmable controller, terminal, ...).